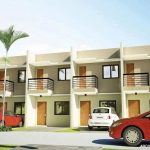 Villa Josefina is far the most affordable house and lot in Lapu-Lapu City right now.
Villa Josefina may not be the cheapest, but it comes with the affordable down payment scheme at Php 12,000/month and is delivered Finished compared to other projects at same range of Price. It is a small community with only small count of houses plus all units come with same design of houses (Townhouse) making it an exclusive subdivision. The subdivision consist of the following features;
Entrance With Guardhouse
24/7 Security
Cctv Survielllance
Perimeter Security Fence
Concrete Roads, Curves and Gutter
Water Tank
Underground Drainage System
Basketball Court
Multi Purpose Hal
ABOUT THE LOCATION
Walking distance to Lapu-lapu City College and Babag Elementary School.
Very Near in private and public school.
ABOUT THE DEVELOPER
The project is under with the local developer here in Cebu, WJV Homes Properties.
HOUSE DETAILS
2 Storey Duplex
Lot area: 40sqm
Floor area: 52.94sqm
2-3 bedroom with 1 Toilet and bath
Living, Dining, Kitchen
Kitchen Cabinet with granite counter top
Wooden staircase with handrail
With ceiling
Balcony
With carport and porch
Painted exterior and interior
Smooth wall finish
SAMPLE COMPUTATION
Total Contract Price: Php 2,185,000
Reservation: Php 10,000
EQUITY 20%: Php 437,000 Payable up to 36months at 12,180/month
LOANABLE AMOUNT 80% : Php 1,738,000
ESTIMATED BANK AMORTIZATION:
30years @ 10,842/Month
25years @ 11,559/Month
20years @ 12,830/Month
15years @ 15,020/Month
10years @ 19,624/Month
5years @ 33,904/Month
For Instance, If the property you are looking is not in this web page, please send us a message and please indicate your
preferred budget and location, We will help you to find your dream home.
For Inquiries, please message Us on our Messenger : Chat Us Now
Sign Up Here for a FREE Consultation
Please also visit our Facebook Page
YDH Realty Services Inc.
Real Estate Broker PRC# 0028609
HLURB# 2604
Rodel G. Revilla
REB, REA, LPT
REB L#28609,ID#2604 until 12/31/19
PTR# 1396162 until 12/31/2019
Our services( We Will Help You in);
Selling
Buying
Transfer of Title
Appraisal
Of all kinds of real estate properties.
Cebu Real Homes Will Help You Find The Best Homes For Sale in Cebu (Condominiums, House and Lot). Call Us Now For A Free Consultation.
For site tour and reservation assistance, contact:
☎0916-7611731 (Globe)
☎0942-0502867 ( Sun )