Mandani Bay Cebu Strategically located along the Mactan Channel in Mandaue City, Cebu, Philippines, Mandani Bay is a 20-hectare waterfront development designed to be the focal lifestyle landmark of its area.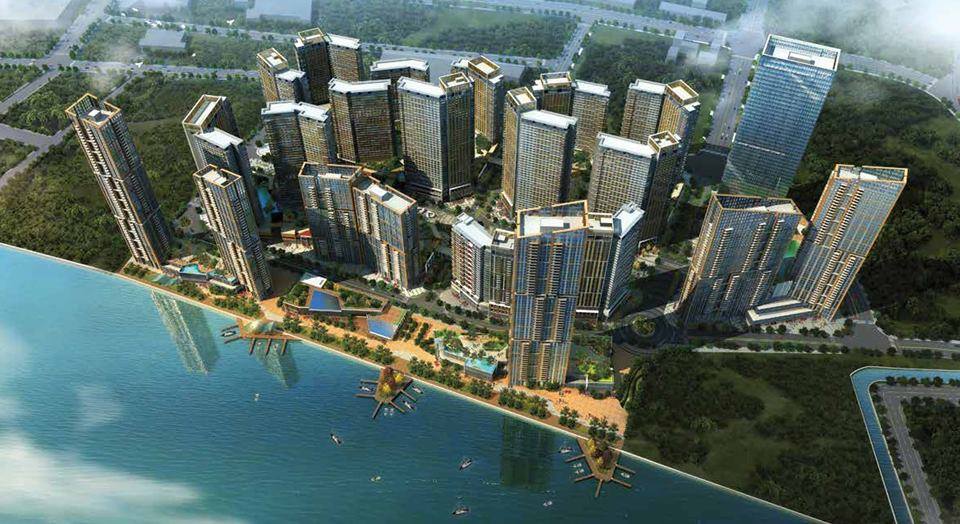 Transforming Cebu into a World-class Lifestyle Destination
Within Mandani Bay, residential towers rise from podium blocks interconnected by footbridges, exclusive parking links buildings at the base, retail spaces border wide boulevards, a tree-lined central avenue puts nature at the heart of the community, and a 500-meter water frontage defines the iconic quality of the development.
Mandani Bay's residential towers rise from podium blocks interconnected by footbridges, exclusive parking links buildings at the base, retail spaces, and border-wide boulevards.
Mandani Bay Cebu is Close To Everything:
A one of a kind setting frames Mandani Bay and underlines it as a high-value property.
Mandani Bay is situated between Cebu, the Philippines' oldest city and main domestic shipping port, and Mandaue, a significant center of trade and commerce in the Visayas and known as the country's Furniture Capital.
Panoramic views and easy access points frame Mandani Bay's expansive community. On the east of the property, a stretch of wharves rolls out onto a broad view of the Osmeña Bridge and the urban scenery beyond. The development will have easy access to the Mactan-Cebu International Airport and Cebu City.
Spaces that make Mandani Bay a triumph of modern architecture & future-ready engineering:
Mandani Bay is specially set apart from other township developments by its large-scale communal areas focused on leisure and recreation. These include the Green Promenade, the Main Boulevard, the Waterfront and Boardwalk, and the Footbridges and Retail spaces found throughout the development.
Mandani Bay Cebu Unit Specifications:
Standard Units:
The Studio, Studio Plus, and One-bedroom Units, all fully furnished with expertly selected appliances and features, are designed by renowned interior planner PTang Studio Limited.
Two-Bedroom – Floor Area: 81.75 Sqm
One-Bedroom – Floor Area: 45 sqm
Studio Unit Floor – Area: 29.75 sqm
The fully furnished units will have these appliances and fixtures, among others:
Air Conditioning Unit (ACU)
Dining Table with Chairs
Sofa Bed
Bed with Mattress & Bedside Tables
Washing Machine
Smart T.V. with Rack
Bluetooth Lockset on Main Door
Premium Units:
All Premium units are semi-furnished, allowing for more flexibility for customization.
PENTHOUSE FLOOR
3 Bedrooms- Floor Area: 115 sqm
2 Bedrooms- Floor Area: 84 sqm
1 Bedroom – Floor Area: 57 sqm
GARDEN FLOOR
2 Bedrooms – Floor Area: 105 sqm
1 Bedroom – Floor Area: 66 sqm
Studio – Floor Area: 42 sqm
2-Bedroom and bigger units on the Premium Floors (Garden & Penthouse) will be handed over semi-furnished. The furnishings will include:
Split-type AC (Living/Dining & Bedroom/s)
Roll-up Blinds (Living/Dining & Bedroom/s)
Range Hood & Induction Stove Cook Top (Kitchen)
Water Heater* (Toilet & Bath)
Shower Glass Partition (Toilet & Bath)
What are the Amenities of Mandani Bay Quay Cebu?
At the heart of the Mandani Bay Quay enclave is the Amenity Area, collectively called the Active Zone.
⬤ EXCLUSIVE:
⬤ SHARED:
1 50-meter Lap Pool
2 Kids' Pool
3 Leisure Pool
4 Pool Deck
5 Pool Lounge
6 Aqua Deck
7 Water Play Area
8 Seating Pavilion
9 Reflexology
10 Outdoor Lounge
11 Office Amenity Deck
12 Office Outdoor Seating
13 Kids' Playground
14 Split-out Multipurpose Lawn
15 Multipurpose Lawn
16 Outdoor Seating Area
17 Cabana
18 Floating Cabana
19 Clubhouse
20 Adventure Playground
21 Kids' Playground
22 Outdoor Fitness
23 Sports Hall
Mandani Bay Quay Tower 3
Mandani Bay quay the first mixed-use Enclave in Mandani Bay.
Mandani Bay Quay gives its homeowners maximum access to and from the city.

The Enclave has three residential buildings, one office tower. At the center of the active zone, it's an exclusive amenity deck filled with outdoor spaces and features that help tenants keep an active, healthy lifestyle.

Mandani Bay completes its four-tower cluster for the new residential building.
Mandani Bay Quay Tower 3, which offers a beautiful view of the sunset, has 36 floors. The ground level holds the residential lobby and is host to retail ground-level parking.

The second levels are for residents; 27 levels are dedicated to the residential units.
These residences are classified into standard gardens and penthouse; the penthouse units are the biggest and offer the most expansive views.
The garden units each have an outdoor space that can be used to create a garden or alfresco dining area.
The standard units, studio plus, and one-bedroom residences are fully furnished; this is a first in Mandani Bay Quay.

The living, dining, bedroom, kitchen, and toilet and bath areas of these units are designed by P-Tang's award-winning Hall cloud-based interior planner known for developing a luxury living and commercial spaces in Asia.

The fully furnished units will have a smart T.V. with a rack, dining set, and bed with mattress and bedside tables, among others, with a designer life home.

At the Mandani Bay Quay Tower 3, residents have to move in when her unit is ready for those who want more freedom to customize their space; two-bedroom and bigger units are handed over semi-furnished.

The fully furnished homes at Mandani Bay Quay tower 3 are not the only first in the new property developer H.T. Land and richer life in the community through a dedicated app that activates advanced accessibility features with just one tap from resident invoke amenities several property fees, managed visitor access and controlled their main doors.

Bluetooth block sets these advancements at home deep in the way of resident experiences of living in Mandani Bay's expansive master plan community.
Never has condo living in Cebu then this exclusive secure and elegant embrace seamless living in a world-class lifestyle destination through Mandani bay quay tower 3
For instance, if the property you are looking for is not on this site, please send us a message and we will help you find your dream home.
Ready for occupancy house and lot for sale in Cebu.
Who are the developers of Mandani Bay?
Partners Hongkong Land & Taft Properties, who formed the joint venture company, HTLand Inc.
Hongkong Land is a listed leading property investment, management, and development group. The Group owns and manages more than 850,000 sq. m. of prime office and luxury retail property in key Asian cities, principally in Hong Kong, Singapore, and Beijing. The Group also has a number of high-quality residential, commercial, and mixed use projects under development in cities across Greater China and Southeast Asia. In Singapore, its subsidiary, MCL Land, is a well-established residential developer. Hongkong Land Holdings Limited is incorporated in Bermuda and has a standard listing on the London Stock Exchange, with secondary listings in Bermuda and Singapore. The Group's assets and investments are managed from Hong Kong by Hongkong Land Limited. Hongkong Land is a member of the Jardine Matheson Group.
Taft Properties is a solid and dynamic developer backed by Vicsal Development Corporation, the company behind the Metro Gaisano chain of stores. Founded by Victor and Sally Gaisano in 1981, Vicsal Development Corporation is primarily engaged in the retail industry with ventures in banking and finance, travel and tours, stock brokerage, investment advisory, and real estate.
Who are the consultants of Mandani Bay?
Master Planner – Crone Architects
Concept Planner – lwk&partners
Landscape Architect – CallisonRTKL
Project Architect – Aidea
Interior Designer – PTang Studio Ltd., Asuncion-Berenguer, Inc.
Environmental Sustainability – A. Bicol Consultancy
Where is the site located?
F.E. Zuellig Avenue, Mandaue City, Cebu, Philippines (along Mactan Channel)
How big is the site of Mandani Bay?
What are the components of the township?
Residential condominiums
Street-front retail
Office towers
Green Promenade
Boardwalk
How many blocks/phases are in Mandani Bay?
What is the special feature of Mandani Bay?
Interconnectedness of basements through Footbridges
How big is the site of Mandani Bay Suites (Phase 1)?
What are the components of Mandani Bay Suites?
Residential Condominiums (5th floor & up)
Residential Amenities (5th floor)
Residential Parking (basement, 2nd floor, & 3rd floor)
Commercial Parking (ground floor)
Street-front Retail (ground floor & 2nd floor)
How many residential towers are there in Mandani Bay Suites?
How many floors and units are there in each tower?
Tower 1 – 28 storeys (inclusive of 1 basement)
Tower 2 – 34 storeys (inclusive of 1 basement)
How many lifts are there in each tower?
4 lifts/tower = 3 passenger + 1 passenger/service
What are the types of units in each tower?
Tower 1
Studio
1-Bedroom
2-Bedroom
2-Bedroom+
3-Bedroom
Penthouse
Tower 2
Studio
1-Bedroom
1-Bedrooom Loft
2-Bedroom Loft
Penthouse
What are the sizes of the units?
Studio: 30 sq. m.
1-Bedroom: 45-58 sq. m.
1-Bedroom Loft: 47-52 sq. m.
2-Bedroom: 66 sq. m.
2-Bedroom Loft: 80-94 sq. m.
2-Bedroom+: 82 sq. m.
3-Bedroom: 107 sq. m.
Penthouse: 106-233 sq. m.
Can a buyer combine adjacent units?
Yes, upon handover, and subject to approval of plans.
Do penthouse units have the same finishes as the typical units?
Yes, but the brands to be used would be more upscale.
What are the Fittings & Finishes of a typical unit?
Floor – Homogeneous Tiles (living/diving, kitchen, toiler & bath)
Laminated Flooring (bedroom)
Wall – Painted (living/dining, kitchen, bedroom)
Homogeneous Tiles (toilet & bath)
Cabinet – Laminated MDF
Counter-top – Solid Surface
Closet – Laminated MDF
What are the features of a residential unit?
Heat detector (kitchen)
Smoke detector (living/dining, bedroom)
Fire sprinkler (living/dining, kitchen, bedroom)
Audio Guest Annunciator
Telephone Line
CATV Outlet (living/dining, bedroom)
Provision for multi-point water heater
Provision for split-type A/C
Provision for washer/dryer
How many floors are there in Tower 1 of Mandani Bay Quay?
44 – 40 Residential Floors, 4 Parking Floors shared with 2 Retail Floors
How many units are there in a Premium Floor?
How many elevators are there in Tower 1?
6 (5 Passenger, 1 Passengers/Service)
What are the unit types & sizes available?
1-Bedroom Special 1: 60 sq. m.
1-Bedroom Deluxe: 58 sq. m.
2-Bedroom Superior: 77 sq. m.
2-Bedroom Suite: 82 sq. m.
2-Bedroom Garden Suite: 105 sq. m.
3-Bedroom Deluxe: 115 sq. m.
Penthouse: 109-149 sq. m.
What are the Common Areas & Features of the Residential Units?
Ground/Upper Floor:
Reception Area
Lounge Area
Common M/F Restroom
Mail Room
Property Management Office
Central Garbage Collection Area
Residential Floors:
Naturally Ventilated Corridors
Provision for Garbage Collection on Every Floor
CCTV:
Ground Floor Lobby
Lift Cars
Amenities Area
Parking Entrance
Retail Area Perimeter
Parking:
Card System Entry
Separate Access for Residential & Commercial Parking
What are the Features, Fittings, & Finishes for the Residential Units?
Features
Heat Detector (Kitchen)
Smoke Detector (Living/Dining, Bedroom/s)
Fire Sprinkler (Living/Dining, Bedroom/s)
Provision for Audio Guest Annunciator
1 Provision for a Telephone Line
CATV Outlet (Living/Dining, Bedroom/s)
Provision for Water Heater* (Master & Common T&B)
Provision for Split-Type A/C* (Living/Dining and Bedroom/s)
Provision for Washer Dryer* (Designated Area)
Fittings & Finishes
Living /Dining Area – Floor – Homogeneous Tiles
Kitchen – Flooring – Homogeneous Tiles
Kitchen – Cabinet – Laminated MDF or equivalent
Kitchen – Counter-top – Black granite, Solid surface, or equivalent
Bedroom – Flooring – Laminated Flooring or equivalent
Bedroom – Closet – Laminated MDF or equivalent
Toilet & Bath – Flooring – Homogeneous Tiles
Toilet & Bath – Wall – Homogeneous Tiles
Maid's Room/Utility Area – Ceramic Tiles
Walls & Ceiling – Painted
Can I use my residential unit for business & commercial activities?
No. Each of the residential units will be occupied purely for residential purposes. No business and commercial activities will be allowed in any residential unit.
The owner/resident shall not fix, paint or put any name, logo, notice, sign, or other advertising medium or paraphernalia on the main door of the unit and walls facing the common area or in the exterior façade of the building.
No unit shall be subdivided into smaller units nor the unit be partitioned among its co-owners.
Are pets allowed?
Pets must be limited to aquarium fishes, birds, small dogs, cats, and other small tamed animals. Except for aquarium fishes, a maximum of one (1) pet is allowed per unit.
Dogs and other similar pets are limited to a maximum height of two (2) feet when full growth is achieved. Large, dirty, dangerous and foul smelling animals are not allowed in the unit.
Fighting cock and other type of chicken are not allowed in the premises.
Species/Animals that are declared endangered by local and international laws and organizations cannot be considered as pets.
The Condominium Corporation has the discretion to prohibit the retention of any pet within any unit which is found to be dangerous or a nuisance to other residents, or is kept in inhumane conditions.
 
Can a buyer renovate a unit?
The buyer can renovate the interior of a unit after acceptance of the unit from HTLand. Buyers are not allowed to alter any exterior walls of their unit. The buyer shall not introduce any improvements, alterations or additions to their unit without prior written consent from the Condominium Corporation. Alterations or improvements done without prior written consent shall be subject to dismantling and demolition.
Are units allowed for short-term lease?
Residential units will be allowed for a minimum of one (1) month lease. For the safety and security of the residents, short-term lease is not allowed.
Where will be the water source of Mandani Bay?
Water will be supplied by the Metro Cebu Water District (MCWD). In fact, MCWD will build a new water facility with in the reclamation area to supply the water requirements of Mandani Bay as well as the future developments within the reclamation area.
Who will supply the electrical requirements of Mandani Bay?
The electrical power of Mandani Bay will be sourced thru the Visayan Electric Company (VECO). VECO has committed to supply the electrical power requirement for the entire Mandani Bay development.
Who are the sources of the telecommunication, cable TV and internet facilities?
Philippine Long Distance Telephone Company (PLDT) will be the exclusive service provider for telephone, cable and internet lines.
PLDT will be providing fiber-optic lines for the above-mentioned services thru their project, PLDT Fibr.
Fibr is the future .of broadband currently being used by international telephone operators like Verizon (US), BT Infinity (UK), etc. This is the most advanced broadband service in the country that connects to the home via fiber-optic lines.
Traditional broadband services are usually through legacy copper lines, or cable. PLDT Fibr's use of fiber-optic cables guarantees the fastest and most stable internet connection for you.
In case of electrical interruption, will there be emergency power wherein electrical and water supply will not be interrupted?
Each podium of Mandani Bay is equipped with a generator set. The generator set is designed to power 100% all electrical requirements of the residential units and the common areas (including elevators). The retail and parking areas also have 100% power back-up.
The towers are equipped with cistern and tanks which serves as water storage for residential and commercial use.
What is the land tenure for the project?
The land tenure is perpetual ownership, subject to the rules and implementing guidelines of Republic Act No. 4726, otherwise known as the "Condominium Act."
Can a non-Filipino citizen own a condo unit?
Foreigners can own one (1) or more condo units and will be issued a CCT under their name as proof of ownership. Foreigners can own a maximum of 40% of the total saleable area (in terms of square meters) of a particular tower.
What are the requirements to purchase a unit?
Payment of required reservation fees. Payment can be made in cash, check or thru credit card (master card or visa). All check payment should be made payable to HTLand, Inc.
Completed and signed reservation agreement, payment term sheet and customer information sheet.
One (1) government issued ID (driver's license, passport, PRC ID, SSS, GSIS, voter's ID, etc.)
After clearance of payment of reservation fees and completion of above mentioned documents the unit will be officially reserved under the buyer's name.
Who can own a parking unit?
The owner of a parking unit should also be an owner of a condominium unit. When a residential unit is forfeited, its corresponding parking unit is automatically forfeited.
What type of vehicles are allowed in a parking unit?
Only passenger-type vehicles or vehicles for personal use will be allowed to park.
What is the proof of ownership of a condominium and parking unit?
A Certificate Condominium Title (CCT) under the name of the buyer issued by the Register of Deeds of Mandaue City
Send Us A Message For The Latest Inventory and Price Updates For Mandani Bay.
Prices above are subject to change without prior notice.