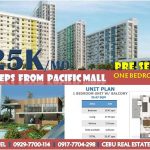 💥Preselling One Bedroom Unit💥
Location: Marciano Quizon Road, Alang-Alang,Mandaue City Cebu
*for as low as 24,755/month after equity
Type : One Bedroom Unit-E1
Floor Area : 35.67
Sea View : 314
AMENITIES:
☄Residential Entrance
☄Swimming Pool
☄Gym
☄Multi-porpuse Hall
☄Drop off Area
☄Retail Strip
Why CASA MIRA TOWERS Mandaue?
💣15 minutes to Mactan Cebu International Airport
💣8 minutes to St. Joseph National Shrine
💣8 minutes to St. Joseph Academy
💣8 minutes to Mandaue City Hall
💣8 minutes to Seamen's Hospital
💣5 minutes to Saint Louis College Cebu
Sample Computation:
Total List Price Php 3,756,534
Reservation Fee: Php 20,000.00
Transfer Charge : 300,522
15%Equity/Downpayment LESS Reservation Fee:
Php 515,306 payable up to 42 months at 12,940/month
85% Balance loanable through Bank Financing: Php 3,193,054
Estimated Monthly Amortization:
20 [email protected] 24,755/month
15 [email protected] 28,700/month
10 [email protected] 37,074/month
5 years @ 63,226/month
🎉🎉 INVEST NOW!!!🎉🎉
📞 0918-2277-700
0929-7700-114
0929-7700-158
📧 [email protected]
[email protected]
YDHRSI also offer appraisal and transfer of title processing of all kinds of real estate properties.
Rodel G. Revilla, REB, REA
REB L#28609 until 09/23/2022
HLURB ID#2604 until 12/31/2020
PTR# 1396162 until 12/31/2020
YDH Realty Services Inc.