Modena Adagio model is one of the most Beautiful House and Lot For Sale in Liloan Cebu
This Beautiful House and Lot For Sale in Liloan Cebu emits an almost masculine quality: Silent and strong. In subdued hues and understated exterior, Adagio's relaxing vibe not only be a comfort to its dwellers but also to guests and visitors.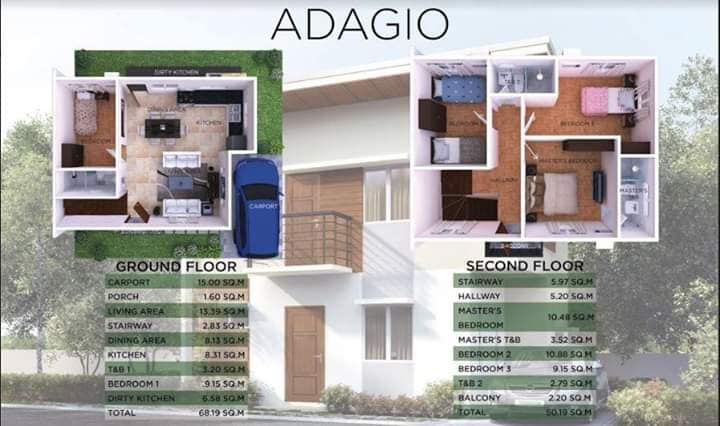 What are the House Details?
2-Storey Single Attached House
Lot Area: 100sqm
Floor Area: 109sqm
4 Bedrooms
2 Toilet & Bath
What are the Key Features and Amenities?
Expansive green areas
Cemented curbs and gutters
24-hour security
Underground drainage
Convertible basketball court
Multi-functional hall
Communal parking areas
Lush parks
Children's playground
TV cable and telephone line provisions
Individual rainwater catchment
Swimming pool
Gazebo
How Much is the Contract Price?
Total Contract Price : Php5,077,078.00
Reservation fee:Php 30,000.00
Why settle for something less when you have a more secure and quality home? Own the best home meant for you.
Own this Beautiful House and Lot For Sale in Liloan Cebu for You and Your Family.
For Instance, If the property you are looking is not in this web page, please send us a message and please indicate your
preferred budget and location, We will help you to find your dream home.
For Inquiries, please message Us on our Messenger Chat Us Now
Sign Up Here for a FREE Consultation
Please also visit our Facebook Page
YDH Realty Services Inc.
Real Estate Broker PRC# 0028609
HLURB# 2604
Rodel G. Revilla
REB, REA, LPT
REB L#28609,ID#2604 until 12/31/19
PTR# 1396162 until 12/31/2019
Our services( We Will Help You in);
Selling
Buying
Transfer of Title
Appraisal
Of all kinds of real estate properties.
Cebu Real Homes Will Help You Find The Best Homes For Sale in Cebu (Condominiums, House and Lot). Call Us Now For A Free Consultation.